Erasmus University Rotterdam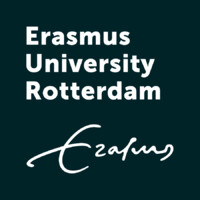 Want to know more about Erasmus University as an employer?
Take a look at their career website for more information.
Education & Training
Rotterdam, NL
3.700 employees
Active in The Netherlands
Working at Erasmus University
Erasmus University Rotterdam (EUR) is an internationally oriented university with a strong social orientation in its education and research, as reflected in our mission: 'Creating positive societal impact'. EUR is home to over 3.500 employees and 30.000 students from more than 140 countries. Everything we do, we do under the credo The Erasmian Way – Making Minds Matter. We're global citizens, connecting, entrepreneurial, open-minded, and socially involved. The Erasmian values function as our internal compass and make Erasmus University recognizable to the outside world. With these values to guide us, with a broad view and an eye for diversity, backgrounds, and perspectives, our employees work closely together to solve social challenges from dynamic and cosmopolitan Rotterdam. Thanks to the high quality of our education and research, as well as our positive societal impact, EUR can compete with top European universities.
We are looking for people who are socially involved, ambitious and want to work together with us on creating positive societal impact. Do you recognize yourself in our values and mission? We welcome you to read more about Erasmus University on our website www.eur.nl and look forward to seeing you on our campuses.
Research at Erasmus University Rotterdam
Erasmus University Rotterdam comprises seven faculties, two institutes, and a university college that do research and provide education on a wide range of topics, such as health, wealth, governance, and culture. Our scientists are internationally oriented, often working together with colleagues from various other universities, institutes and (public) organizations across the world. We aim to deliver meaningful research with genuine impact. Are you looking to do impactful research or provide impactful education? Read more about our various research areas and initiatives here: https://www.eur.nl/en/research.
Diversity & Inclusion at Erasmus University
Erasmus University Rotterdam aspires to be an equitable and inclusive community. We nurture an open culture, where everyone is supported to fulfill their full potential.
We see inclusivity of talent as the basis of our successes, and the diversity of perspectives and people as a highly valued outcome. EUR provides equal opportunities to all employees and applicants regardless of gender identity or expression, sexual orientation, religion, ethnicity, age, neurodiversity, functional impairment, citizenship, or any other aspect which makes them unique.
We look forward to welcoming you to our community and invite you to read more about our various D&I-initiatives on our website: https://www.eur.nl/en/about-eur/vision/diversity-inclusion.