BNNVARA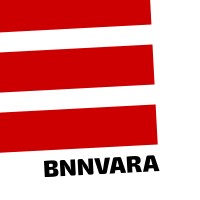 Want to know more about BNNVARA as an employer?
Take a look at their career website for more information.
Media, Publishing & Broadcasting
Hilversum, NL
45% male / 55% female
Avg. age 36 years
470 employees
Active in The Netherlands
BNNVARA is een mediaorganisatie met een missie. We leggen de lat hoog, elke dag opnieuw. Alles wat we doen staat in dienst van een gelijkwaardige en eerlijke samenleving.
Waar staan we voor
BNNVARA is een onafhankelijke, ideële mediaorganisatie die zich inzet voor een open, gelijkwaardige en rechtvaardige samenleving.
Waar gaan we voor
We hebben een wereld voor ogen met gelijke kansen voor iedereen. Een duurzame, inclusieve samenleving waarin iedereen deelt in de welvaart en het plezier. Met nieuwsgierigheid naar de ander en met begrip voor elkaar.
Kom jij ons versterken?
We maken verhalen die nodig zijn, en die ertoe doen. Daarvoor gooien wij alles in de strijd. Jij ook?